• fall • holo • japan • spring • sticker art • stickers • summer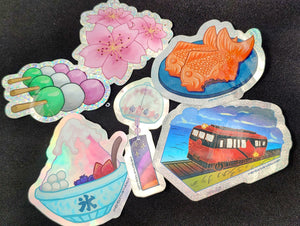 Currently adding some new items - stickers and buttons and maybe... commissions form?! Getting pumped. Super happy with this sticker series so far. So way back in 2011 I lived in Japan for a year and every year since, I can't wait to get back again. These stickers show some of the things I loved in my travels across the country and I want to share them with all of you. Japan is very seasonal, putting a lot of emphasis on whatever is in season for that particular time of year. For spring I chose cherry blossoms and dango (sweet...
---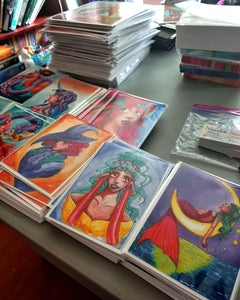 I'm jumping in! Shop will now be open fulltime until end of the year. I was hesitant to have it open constantly because I didn't want to risk missing an order, not being available to respond to people. But now that I've had time to adjust, it's not so scary any more. Remember, it's just me here! No staff, no help (besides the wonderful emotional support from my people, of course). Let's sell out this stock so I can get some new and exciting artworks in here for 2023 (or sooner!). I already have 1 ready - more on the...
---
After a much needed break, I've got the shop ready to go for another quick sale before the end of the year. Online shop will be open from November 23 thru December 7, 2021 with a pretty sweet sale on everything for 15% off. For some of these prints, once they're gone, I probably won't print them again. At least not in the same format. I need to make room for new stuff! On the topic of new stuff, I'm working on the next iteration of the Coloring Book as well as painting some new pieces for prints for 2022....
---
Phew! Lots of work and energy spent and here we go - shop is now open from July 2-18. And to celebrate - a special sale for 15% off purchases of $40 or more just use the code SALE15 at checkout. Being new to this, please let me know if you experience issues with the website via my contact page. If it's something within my power, I'll be more than happy to troubleshoot it.  Well happy shopping and I hope everyone's having a lovely summer so far!